It's as easy as 1, 2, 3…
When you recycle with Containers for Change, you get a 10 cent refund for every eligible container you return.
Not in Queensland? Click here
Collect eligible containers
Get collecting
Take them to a container refund point
Get returning
Earn a refund or donate
Get your refund
GET STARTED WITH A SCHEME ID
A scheme ID is a great way to track the change you're making.
Provide your scheme ID barcode via your digital wallet or app, or your mobile number at the refund point and your refund will go directly into your preferred account - whether that's to your bank account, PayPal (no bank details required) or favourite cause.
1. Collect eligible containers
Not all containers are eligible. Download the app to scan the barcode on your containers or enter the barcode below to find out if it's eligible.
LEARN MORE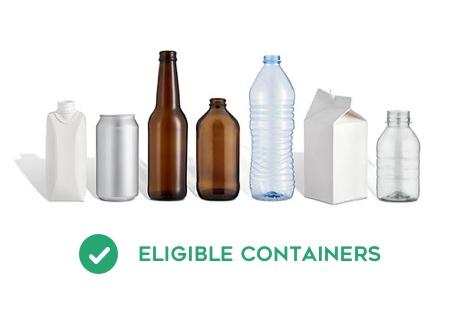 2. Return your containers
There are four different types of container refund points available in Queensland. The best one for you could depend on how many containers you're returning and how you would like to receive your refund.

FIND A CONTAINER REFUND POINT NEAR YOU
Search for your local by postcode or suburb.
Don't forget to sign up for a scheme ID.
3. EARN A REFUND OR DONATE
All eligible containers are worth a 10 cent refund that you can either keep or donate to a charity or community group.
Sign up for a scheme ID and choose to get your refund paid to your bank account, PayPal or favourite cause.